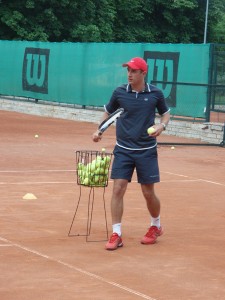 Tennis Holidays LTD was setup by Kristjan Koik. Kris is from Estonia, Haapsalu. He has vast knowledge about the country and the city of Haapsalu.
Kris has been living in Ireland for the last 10 years. Out of these years Kris has been Head Coach of Lansdowne Tennis Club for 9 years. He's been playing tennis for 20 years. Kris was one of the top juniors in Estonia. He has played for California Lutheran University in the United States. He still play's tournaments in Ireland and is a champion of many singles and doubles championships. He also plays in the 1st team for Lansdowne Tennis Club.
Kris is the coach for former and current number 1 ranked players in Ireland. His students are represented on both Leinster and National squads. They have had great sucess both nationally and abroad.
Our tennis courses are designed for people of all ages and playing standards from beginners to the most advanced tournament players. To ensure maximum progress and compatibility, participants are divided, where possible, into groups according to approximate standard.
The aim is to deliver superb coaching and to improve your game both technically, tactically and mentally. Our goal is to make sure people are having a brilliant time both on and off court. For this reason the package includes accommodation in Spa Hotel Fra Mare and includes numerous spa treatments to pamper our clients.
The city of Haapsalu has many festivities during summer season. Depending on the week you choose there are events in the city such as Old City Days, Jazz Festival, White Lady Festival, concerts and much more.
Our tennis holiday includes something for everyone. If you are looking for peace and tranquillity of heavenly Haapsalu or pubing and dining you will find it all in Haapsalu.